See on Scoop.it – ANALYZING EDUCATIONAL TECHNOLOGY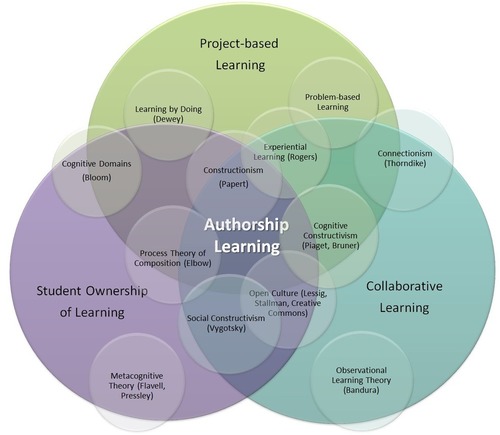 Educational theory and practice have begun to appear more frequently in the popular press. Terms such as collaborative learning, project-based learning, metacognition, inquiry-based learning, and so on, might be new to some audiences, but they have a relatively long and well-documented history for many educators. The most widely-known and promising pedagogical approach is constructivism grounded on the work of Piaget, Vygotsky, and Bruner. Given how it has transformed my own understanding of pedagogy, teaching, and learning, constructionism seems ripe for a similar resurgence — like a phoenix rising from the ashes of Taylorization and standardized testing. Constructionism brings creativity, tinkering, exploring, building, and presentation to the forefront of the learning process.
Over the last decade my teaching has undergone a dramatic transformation as I played with many methods for getting my students to learn not only through doing, but also through creating. Initially this interest was sparked by a belief that targeting the highest level of Bloom's Taxonomy (revised) would lead to mastery in all the other cognitive domains. Later it was bolstered by an interest in creating more collaborative learning opportunities for my students.
I also felt passionately that anything my students create should have an authentic audience. I realized, after reading the works of influential writing theorist Peter Elbow, that when they wrote essays for me, they were writing to be judged, not writing to inform. Elbow argued that:
"When students write for teachers, they are writing 'uphill' in the authority dimension: instead of having the normal language-using experience of trying to communicate 'across' to others in order to tell them what's on their mind, they are having the experience of trying to communicate 'up' to someone whose only reason for reading is to judge the acceptability of what they wrote and how they wrote it."
My first experiment was in having them write essays for their classmates, and although it was a vast improvement, still the audience seemed less than authentic.
Fortunately, my efforts to transform the way I teach came at the same time we were experiencing the societal shift from information consumerism to a production and remix culture. Now my students could write for a truly authentic audience through blogs, wikis, and websites.
As I strove to facilitate learning through creating, I realized that text-based creations were only the surface and started to build learning experiences in which my students explored and leveraged the wealth of creativity tools which were freely available online, including podcasting, screencasting, online presentation, mindmapping, animation, and infographic tools.
Click headline to read more–
Sanford Arbogast's insight:
I prefer the Connectivist approach, but if we can move the masses out of the 19th century education model and into the early 20th model that is a ste in the right direction.
See on www.hybridpedagogy.com